Let us know what your child is reading - and we will send you a Read Aloud book bag with a free book!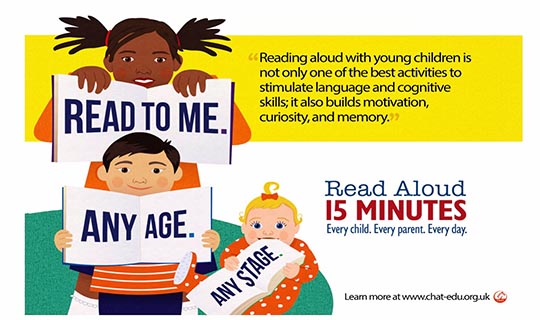 A message from the Community Outreach team

Hello Parents and Carers, 
The Community Outreach team run the Read Aloud events and workshops but unfortunately, under the current circumstances are unable to do so. 
We would still like to be in touch with you and the children even if we can't get together for now.
To continue to promote reading to the children we can still support you the parents/carers.
We would like to know what your child's favourite storybook/magazine/information book or poem is, so we can share this with their school friends on our social media platforms. 
Send us a picture to communityoutreach@chat-edu.org.uk of your child and their book and you could win a Read Aloud book bag with a free book inside. Please include your child's name and school in the email. 
Be quick! Only the first 20 entries will receive the Read Aloud book bag and free book. 
If you would like to challenge your child further, have a go at answering the questions below. 
Questions to ask the children:
Is it a story or poem? 
What's the title called.
Who's the author.
Where is the story/poem set?
What did you especially like about this book?
Who are the characters?
Was it funny, magical, adventurous or a thriller?
What was your favourite part?
The Community Outreach Team can't wait to hear from you.
#ReadAloud #15Mins #EveryChild #EveryDay