Force for Positive Change

We have launched an exciting new and child empowering initiative called Force for Positive Change - F4+C.
The school is encouraging the belief in all the children that they can make a difference.

At Kingfisher Hall we often reflect on what we do and how we are doing it to remind ourselves of our core purpose.
It is, not only to ensure our children achieve their full potential but because, as they experience our curriculum, they will have the skills, knowledge and values to be able to be a force for positive change in this world.
We want to give our pupils what they need to make the world a better place than we have left it for them.
Our pupils need to understand that they can make a difference and that they have a voice that we can help be heard.
Their views on issues that affect children need to be heard and we need to facilitate this. By the time our pupils leave our school at the end of Year 6 we will have been able to influence them for nearly three quarters of their lives.
Our curriculum is designed to make the children realise they can become a force for positive change: in their homes, their school, their community and the wider world.
Campaigning for justice for the Windrush generation
National coverage
The Voice newspaper interviewed the children and produced an article about the children and their campaign. You can read the full article here.
Year 5 also took part in a national radio programme all about the letter the pupils had written to the Home Secretary, Priti Patel, calling for an end to the Windrush scandal.

The author, politician, activist and historian Patrick Vernon OBE and Sinai, a journalist from the Voice and of radio station Colourful, came into the school to interview the children.

Patrick said he was really impressed with the children's eloquent statements and said he hoped that all schools were like Kingfisher, were the pupils had a voice and a passion to get positive change in the world. 

MP at Kingfisher for campaign launch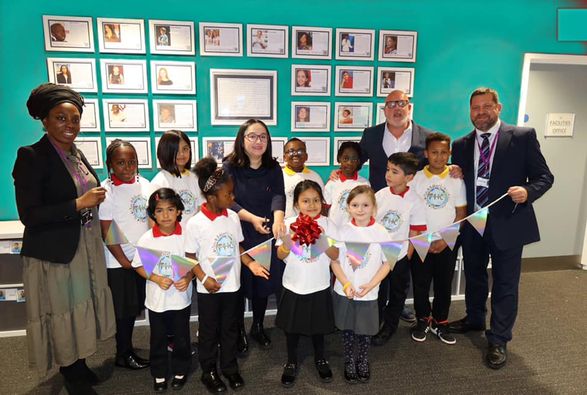 Local MP launches the initiative
Enfield North MP, Feryal Clark, helped us to launch the initiative at the school on Tuesday, 9 November.
As part of the launch she opened our wonderful new digital and photographic gallery celebrating 'Inspirational Children' in our school and from across the world. and declared: "This is a brilliant initiative from Kingfisher. Absolutely wonderful to empower children."
The gallery already has over 20 examples of inspiring children and how they have been able to be a force for positive change themselves.
We enjoyed welcoming Feryal to the school and letting her know all about  A Force for Positive Change.
She said she would tell Parliament about us if she gets the chance.